This is the download page for issues of the Australia and New Zealand Micromineral News, a publication for those interested in micromounting or microminerals, and particularly in minerals from this region.
In April 2011, a meeting of people interested in microminerals at the Bathurst Gemboree, with representatives from the Australian states and New Zealand, discussed the desire for a newsletter on Australian microminerals. It was proposed to have a regular newsletter to circulate to people interested in microminerals. A subsequent meeting held during the Mineralogical Societies Seminar in Melbourne in June 2011 re-affirmed this interest.
This resulted in the genesis of the Australia and New Zealand Micromineral News. The original intent was to publish issues quarterly, however this is very dependent on contributions. It will be available electronically (via pdf files at this site) and at no cost. Yes, that's right. FREE! As with many of these ventures, it will only succeed with contributions of articles. See inside issues for details on how you can participate.
---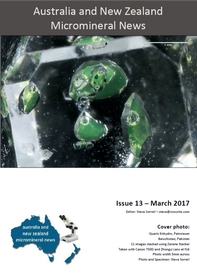 Issue 13 (March 2017) includes:
Tridymite and associated minerals from cavities in icelandite from the Spring Hill area, Victoria, Australia
Micromineral news from Victoria
Crystallography for Micromounters, Part IV – Symmetry
New Zhongyi Mitakon Super Macro Lens
Adding a Scale Bar to Micro Photos
Rare bismuth minerals from Morass Creek, Benambra, Victoria
---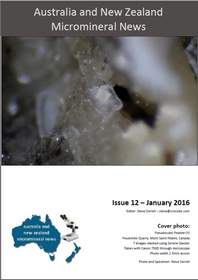 Issue 12 (January 2016) includes:
A Point to Ponder…
New Zealand Symposium Competition Winners
What's New in Old Collections
Cynthia Peat
New Zealand Northern Region Mineral Interest Group 2016 Dates
Queensland Micromob Report – June 2015
If anyone is inclined to do any illegal mining or prospecting in Tasmania
Crystallography for Micromounters, Part III – Crystal Geometry
---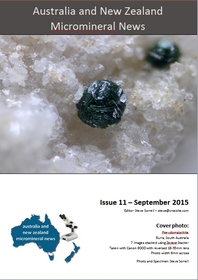 Issue 11 (September 2015) includes:
Woodlawn Minerals
Meetings of the Micro Group of Victoria, March and April 2015
Mercury
Minerals from Portland, Victoria
Hoelite
Crystallography for Micromounters: Part 2 – Crystals
Zeolites and Associated Minerals from Bunnan, Hunter Valley, New South Wales
---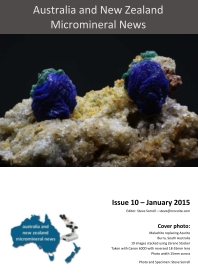 Issue 10 (January 2015) includes:
Notes and Queries
An addition to the list of Kingsgate minerals
News from the New South Wales, Victoria, and Western Australia Micro Groups
Crystallography for Micromounters: Part I – Introduction and Composition
Microminerals found in the Iron Ore deposits of the Pilbara, WA.
Minerals from Jindivick, Victoria
Minerals of the Woodlawn Mine in the Southern Tablelands of NSW
---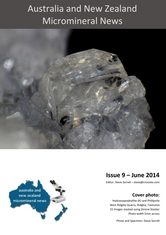 Issue 9 (June 2014) includes:
An Open Letter
Notes and Queries
Pseudomorphs in Microspecimens
29th Annual Micromineral Symposium, Wellington, New Zealand
Micro Group Reports for Victoria and Queensland
Iridescent Andradite from Queensland
Minerals from the Narre Warren and Harkaway Quarries
Forum on the Photography of Microminerals
The Zeolite Group of Minerals
The Pleochroism of Tuhualite
---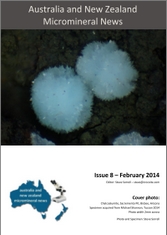 Issue 8 (February 2014) includes:
On Using a Loupe
A visit to the Munich Show
Micro Group Report
Minerals from Tolwong, New South Wales
Tucson 2014
---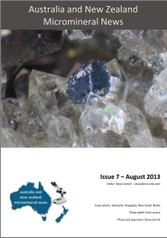 Issue 7 (August 2013) includes:
Malbunka Copper Mine, Northern Territory
Victorian Micro Group Report
Searching for Bournonite Micros in Cornwall
Pyrite Twins from Todd's Quarry, New Zealand
"Kingsgateite" and Gelosaite
Show and Trip Reports
---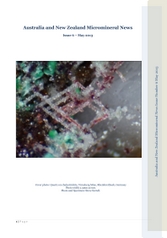 Issue 6 (May 2013) includes:
Minerals from Dookie, Victoria
Mineralogical Societies Micro-Mineral Group Activities
Show Reports
Problem Corner
---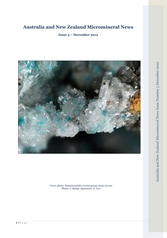 Issue 5 (December 2012) includes:
Minerals from the Muldiva Mines, Queensland
Mineralogical Societies Micro-Mineral Group Activities
Making a microscope base cover
Seminar and Show Reports
---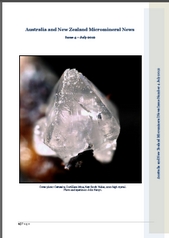 Issue 4 (July 2012) includes:
Minerals from the Cordillera Mine in New South Wales
News from around the Societies
The Palmer Show
Mini tanks
---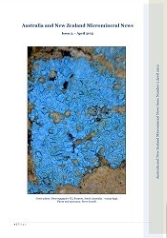 Issue 3 (April 2012) includes:
A Wittichenite Crystal from the Cattle Grid mine, Mount Gunson, South Australia
News from around the Societies
Self-Closing Tweezers
Arthur Roe Memorial Micromount Symposium, Tucson, Arizona
2012 Gemkhana, Shepparton, Victoria
---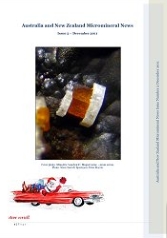 Issue 2 (September 2015) includes:
Mimetite from the Magnet mine, Tasmania
Around the Region
Anatomy of a Mineral Specimen
---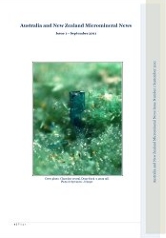 Issue 1 (September 2011) includes:
Some minerals from the Dome Rock Copper Mine, South Australia
Twinning in Pseudobrookite
Micromounting for Beginners
Around the Region